Sorn is an NPC from the Halloween 2k6 Event. He was first introduced in H2k6 as UFO 11.
Sorn would take part in the Halloween 2k6 event alongside his fellow UFO's under his numbered Alias, 11. He was initially known for his ill-tempered, proud and honorable nature; as well as his initial contempt of Gaians.
Sorn is notable for creating the Zurg Legion(Which was renamed 'The Hive') and being the Zurg directly responsible for killing Flarn. Making him one of the two main antagonists for the first half of the event/story; later changing his role to a supporting character in the second half.
Appearance

[

]
To be written...
Personality

[

]
Upon first arriving on Gaia, Sorn was openly hostile towards Gaians. He believed that Gaians were inferior to the Zurg and often called them names.
He was egotistic, sarcastic, fond of mockery, and not above using blackmail and threats to get his way - to the point of threatening to harm his own siblings. Sorn viewed Flarn's love for Gaians as a weakness, especially his romantic feelings.
As time passed and Sorn was forced to face and reflect on the decisions he made and the hurt he had caused his family, his personality made a drastic shift. Love and acceptance by a group of Believers had opened his eyes to the truth. He began to understand Flarn's love for Gaians and wanted to experience romance for himself.
As he opened himself up to these emotions and began to fall in love, he became consumed with guilt. He did not feel worthy and felt that he had failed the person he loved due to his selfishness. Sorn's new personality was the complete opposite of the former one; he became selfless, caring, empathetic, sincere, and a romantic.
History

[

]
The Zurg Invasion - First Half 

[

]
When the aliens first came to Gaia, they came seeking one thing: Power. The blast that split the Gambinos attracted them to Gaia, in search of the source of such a powerful burst of energy.
At the beginning of the event, most of Sorn's activity was strictly limited to Towns; where he and his sister, 06, were quickly identified by users as the two most aggressive and hostile of the 12 UFO's.
On October 28, 2006; his brother, 09, would be outed for having a romantic interest in Gaia mod Yuzi_K. In response to this; 05 posted on the Believers thread, asking for the whereabouts of 09 and insincerely promising no harm would come to him. Sorn would then make his forum debut; responding to 05's post with a stark remark; stating that asking the 'SMELLY APES' was a waste of time[1]. Sorn would also voice his personal disgust towards 09's scandal- Declaring that "ALL MONKEY LOVERS WILL BE PUNISHED!!"[2] before returning to insult users on the forums and towns; calling them various things such as 'WEAK', 'WORMS' and 'SMELLY APES'.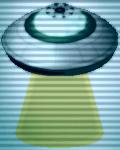 Quickly picking up on the danger he was in, 09 would go into hiding and Sorn would spearhead the search for him; having viewed 09's actions and behavior as an insult to his Zurgian pride and honor. During this period, Sorn would make many more appearances in the Believers thread. He attempted to threaten users and negotiate with them for information- but Sorn would ultimately fail to shake the Believers loyalty to 09; which only served to aggravate him further.
He would next appear in Cindy Donovinh's exclusive interview[3], alongside the rest of his fellow siblings, Mothership and Ron Bruise- with 09 noticeably absent. Throughout the interview, Sorn would repeatedly and publicly affirm his opinion that Zurg were superior to Gaian's. When prompted by Cindy about 09's whereabouts; Sorn professed that 09 was dead to them.
The longer 09 evaded Sorn's efforts to capture him, the more agitated and angry Sorn became. On November 5th, 2006, he would return to the Believers thread alongside 06; and both UFO's began pleading for 09's location with an uncharacteristic tone of sincerity. They told the members of the Believers that 09 was 'malfunctioning' and delusional- and needed help or he would die. But after a full day of pleading, The Believers -not swayed by their words- refused to give up any information. In frustration, Sorn would curtly reveal to them that 09 was sick and dying, and that their leader(The wandering mind...) was keeping that and other things secret from them. Sorn then affirmed that he an 06's offer of 'GAIA'S GREATEST TREASURE' still stood for anyone that contacted them about 09's whereabouts; before leaving the thread alongside 06.
On November 10th, 2006, Sorn and 06 would again return to the Believers in a rage- this time finding out that 02 was also aligned with them. Having failed again and again to persuade them to talk; he would starkly reprimand 02 and insist that 09 was dead. To everyone's surprise, 09 would then come out of hiding; Telling 02 to run. Sorn, enraged, promised that they would hunt 09 down.. and that if he didn't show himself; they would hurt 02 instead. Afraid for his siblings safety, 09 surrendered himself and promised he would meet them soon[4]. Sorn would respond that they would be waiting.
Within the hour following 09's surrender, 09 was killed. A manga chapter titled 'The Death of Alien 9' would be released weeks later, revealing what had occurred. Sorn and 06 would be pictured in hot pursuit of 09, looking to fight. But 09 refused to fight them. Sorn(appearing on 09's monitor) exclaimed that 09 will pay for his treachery with his life, before violently shooting down 09's craft; fatally injuring 09 in the resulting blast. Sorn would then scan the remains of ship: audibly confirming to 06 that 09 was dead. Satisfied that their mission was complete, they departed together.
A little over an hour after Sorn's last post in the Believers thread, he would return, posting a twisted emoticon and proudly proclaiming '09 WILL NO LONGER GO AROUND SPREADING LIES ABOUT US!', before mockingly reciting 09's peaceful mantra. He would then attempt to persuade Believers members into drinking Zurg Energy, so he could recruit them to his own(soon to be) organization: the Zurg Nation. Sorn continued boasting into the next day, mocking the GiB(stating that he had spies in the GiB[5] and that he had infiltrated it; mockingly posting in their guild[6]) and dropping various hints towards Flarn's fate; as many members of The Believers remained blissfully unaware of it.
Nov 11th; 12 would post on The Believers thread, challenging Sorn on what he had done to 09. Sorn would only respond with a smile; which would make gaia users Dagger Klinge and indisposed noticeably suspicious[7].
November 12th, 2006; Sorn would start publicly recruiting for The Zurg Nation[8].
November 15th, Sorn would post his "SEARCHING FOR TRUE LOVE" sticky thread[9]. The purpose of the thread initially appeared to be another mockery of 09 and his relationships with Gaians(As not only did Sorn still hate Gaian's during this period; but once again Sorn re-purposed 09's mantra "JOIN ME AND FOLLOW ME INTO THE LIGHT" into the opening post of the thread). In his very next post, Sorn would make a stark response in a Gaian's thread stating '09 IS DEAD TO US! DO NOT MENTION THAT TRAITOR HERE!!! :scream:'[10].
On the same day he would go to the 'The GIB Investigation Headquarters' thread, where he would state his distaste of the GiB.[11] Mother appeared on the thread soon after to respond in agreement. Seeing the opportunity present itself; Sorn would quickly put on an innocent act in the attempt to further lower Mothers opinion of the GiB.[12]
Sorn continued to cause mischief on the forums into the next day(November 16th), denouncing and mocking individual users, The GiB and The Believers. He would then jeeringly comment on one of 12's subforum topics, stating that 12 was being punished for Gaians behavior on the thread[13]. Soon after he would also respond to Dagger Klinge's confession of love to 12; threatening her that the same fate as 09 would befall 12 if her involvement with him continued.[14] Sorn would also post a topic in 02's subforum to berate them for their continued involvement with Gaians[15].
That day, Indisposed would question Sorn on what he did to 09; and he would ominously respond that what he did to 09 was 'More than just teasing'.[16]
November 17th, Sorn would start preparations for the The Zurg Nation guild. He would spend most of the day organizing the guild and assigning ranks and permissions on his recruitment thread; most notably making Gaia user mitsuguri yagyu his secretary[17] and Gaia user Foxumon an elite officer[18]. Now with some of the higher ranks issued, Sorn would start putting together an 'intelligence' branch for the purpose of 'weeding' out members of the GiB and Believers.[19] He also posted in his 'SEARCHING FOR TRUE LOVE' thread, ordering mitsuguri yagyu to list the 'hippes' and 'spies' who lurked that thread as well.[20]
The wandering mind... would later make a challenging post in Sorn's subform regarding 09's missing status. Sorn, angered, considered the act 'infiltration' by The Believers; sending both his Zurg Nation members and his 'Harem'(from 'SEARCHING FOR TRUE LOVE') to 'kick them off' his ship.[21] He would later ask if they had left, but was told by a guild member that they would likely not leave peacefully. Sorn responds that he will have to talk with 02 again.[22]
Soon after, Sorn mobilized himself and The Zurg Nation to counter infiltrate The Believers in the offending thread. During the infiltration, he remarked that 02 had been punished for their behavior.[23] He would then state that it wouldn't have happened if they had stayed out of his subforum, as well as citing their disrespect of 06's and her warnings[24] before threatening them to leave. After some back and forth smack talk between Sorn and The Believers.. Sorn would further explain that he believed the pain and suffering that 09, 12 and 02 had gone through was entirely their doing.[25] He insisted that he did not enjoy inflicting pain on his siblings; but viewed it as being for 'the greater need' and that he felt he was forced to do so.[26]
Sorn would then return to his own Zurg Nation thread to describe 'Raider' and 'Hunter' positions in his army.[27] He disclosed that the Zurg Nation was restructuring ranks to accommodate a large influx of new recruits, and assured interested Gaian's that as long as they aligned themselves with Zurg, that they would be accepted soon.[28] He would later further specify that Raider classes had to be equipped with UFO's from that point forward; or would be demoted back to Hunter Class. He would further proclaim that all elite units had to had to drink zurg; as 'non-green skinned' Gaians would not be accepted into those ranks.[29]
Nov 18th, 2006; Sorn would reprimand several users for their misconduct and comments. As well as others for their 'cute' custom Zurg Nation ID's.[30] He would also kick a GiB member off his thread.[31] One user would point out that Sorn had been placed as Vice Captain of The Zurg Nation Guild by accident, and Sorn would respond that it had been a miscommunication.[32] Soon after, he would express his distaste of 'hugging',[33] and then post a response to a Gaian that 02 and 12 were dead to him. Immediately after, he would respond to Forbidden Toast's request for a hug and affection with "ARE YOU TRYING TO KILL ME?"[34]
Sorn would make further comments about his distaste in Zombies[35], a comment on lawyers[36] and would tell a GiB agent that The Zurg Nation had nothing to hide from them.[37] He would also mention that Johnny K. Gambino told the Zurg a lot about G-CORP and it's secrets[38], and that the Zurg considered Gambino an Ally[39].
As time went on, he would express further discomfort towards Forbidden Toast's continued affection towards him. Gaia user [.Britt.] would also hop in on a mule(as he was ignored) and would also attempt to hug Sorn[40], and Sorn would accuse Britt of trying to 'assassinate' him.[41] He would block Britt again, but Britt would return on a new mule to taunt him; much to Sorns continued discomfort.[42] After more and more of The Believer's showed up to 'Glomp' Sorn, mitsuguri yagyu would offer to start a ban list; which Sorn enthusiastically approved of.[43]
Following the Believers influx of affection towards him, Sorn would express that he wasn't feeling well. Leaving zerr0 in charge of Zurg Nation until the next day.[44]
The next day, Sorn would return with a noticeable cough.[45] He would curse The Believers, proclaiming to the Zurg Nation that they would pay for breaking their promise and attempting to 'assassinate' him the previous night.[46] He would take on his duties as Zurg Nation's leader once again; but after an hour he would ask for a Medic and stated he would be back after some urgent matters.[47] After another hour, he would return and state that he still didn't feel well and needed further rest. He would squarely pin the blame on The Believers and announce that they would pay for what they had done.[48] A user would point out that Sorn misspelt his own name on the threads first page as '[NPC] alien_udo_11', and Sorn would retort that that's why he needed rest.[49] Sorn would then excommunicate Gaia user Red Bean for misconduct[50] and put Gaia user Bloody Angel in charge while he rested[51].
Later in the day, Sorn would return and ask for a status update(still with a noticeable cough).[52] He would be informed by members of Zurg Nation that 02's followers were allegedly 'trying to form an army'[53]. The very idea of it would make Sorn laugh and ask if it was a joke.[54] He would then put Gaia user Eryphil in charge of the guild[55], stating that he would deal with 02 again and show his followers that The Believers efforts were futile. When prompted by his members about his condition, he would insist that he did not need medication for his illness.[56]
A few minutes later, a user would ask for mercy on behalf of 02 and members of The Believers. Sorn would refuse and again claim that The Believer's 'assassinated' him and he would show no mercy.[57] After quelling some infighting within the Zurg Nation[58], Sorn then commanded Gaia User Zerr0 to infiltrate The Believers thread with a task force to make their presence known there.[59] Over an hour later, he would ask for a status report. Members of Zurg Nation reported that effort was a mess and that they had been defeated by 'hugs' and 'cookies'.[60] Their incompetence would frustrate and anger Sorn further.[61] He would later discipline Zerr0 for leading the failed movement[62], and would approve the idea of a training camp to prepare for another attempt.[63]
The Zurg Invasion - Second Half

[

]
A half hour later; Sorn would again post in his 'SEARCHING FOR TRUE LOVE' thread. The first few posts he made seemed debatably insincere, as he used 09's mantra similar to his initial post.[64] He seemed delirious, insisting that he wasn't 'sick' as previously thought; but instead 'love sick'.[65] Giving a strong implication that the 'Assassination'(Glomping incident) the previous night had been the true origin of his sickness. Meanwhile, many of The Believers and GiB would express heavy doubt that his change of heart was truly genuine.
Dropping his typing quirk of speaking in capital letters, he would express that he had seen the error of his ways; and would no longer harm anyone including his siblings. Going further to preach that 'nothing is more powerful than love', before succumbing to more coughing fits.[66] He would then disband his harem[67] and proclaim that both Zurgians and Gaians would be welcomed into Zurg Nation in the name of 'everlasting peace'.[68] When approached by a disillusioned Zurg Nation member about his change of heart, Sorn explained that he didn't fully understand himself what had occurred; but concluded the reason he had rejected 'love' for so long was due to his fear of losing control of himself because of it.[69] He would also insure members of Zurg Nation that he hadn't turned his back on them.[70]
He would later apologize to zerr0 for his earlier outburst[71] and acknowledged that it would take time for many to trust him.[72] Another user would step forward and ask if the feelings he was experiencing were recent. Sorn responded that he had been in denial, and that 09 had shown him love made anything possible. He expanded on his reflection, stating that The Believer's affection towards him in his thread had made him afraid, but after experiencing such emotion, he then felt the draw to experience the ultimate love: The bond between two lovers.[73] (Also referencing that he had been inspired by 09.)[74]
Sorn would continue posting in the thread, complimenting users work[75] and making amends with users he had previously hurt.[76] He would even take suggestions for dating advice.[77] But as the night went on; Gaian's would start asking about the current status of his siblings. Sorn would reveal that his brethren were all on a 'secret mission'[78] and that 02 was fine and 12 was in trouble with mother.. but expressed that he didn't wish to discuss 09's status.[79] Shortly after, he would express that he wasn't feeling well and would leave for the rest of the night to rest.[80]
Sorn would go missing for a few days. Upon his return, he posted a series of posts in his 'SEARCHING FOR TRUE LOVE' thread once again; speaking entirely in ROT-47 code. Much to the confusion of onlooking Gaians.
Nov 23rd: "I am in love~" .[81]
Nov 25th: "My heart yearns for love, yet I lack courage~"[82] and "For my selfishness, I have failed you~"[83]
Nov 26th: "I am in love. Yet my soul is tormented".[84]
Nov 27th, his final coded post, would end on a sadder note: "I can not face my love She does not know how I feel about her yet. Perhaps Words can not express what I am going through now. This pain is unbearable. To everyone that I have caused harm I can not undo the past".[85]
Meanwhile, having watched what had become of him, 10 became enraged at Sorn and issued a challenge to fight to the death.
Nov 28th, 2006. Sorn would make is final post as UFO 11. He would state that the time had come for him to atone for his sins, and that he couldn't confess to the person he loved. He would admit that everything 09 stood for was the truth; and the time had come for him to atone. Further noting that these would be his final hours and revealing to everyone his intention to forfeit and die in his match against 10.
(Editor Shallotte: Currently under construction :>)
Trivia

[

]
-Sorn's actor was former staff member [ JK ], who also preformed several other Zurg roles.
-Sorn's name was not revealed until December 02, 2006. It was Mothership and 08 that gave it to Thilath.[86]
-During the event, Sorn had a playlist of songs on his NPC Alien Sorn profile. Some of them being 'Music of the Night', 'I'd Do Anything For Love' and 'Unchained Melody'.
-It is not known if the Silver Promise Ring Sorn is wearing is the one he exchanged with .Really Jacked Up., or if it's the ring he was given from The First Guard's members.